Why 360i?



We Keep Your Business Simple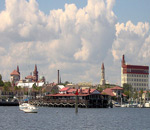 360 Integrated Business Solutions (360i) ) is a premier full charge bookkeeping and administrative services firm located in St. Augustine, Florida - proudly serving the St. Augustine area and surrounding communities. We have 29 years of experience in bookkeeping, and all of our helpful and friendly staff members are certified QuickBooks Pro advisors. With 33 years of experience in all aspects of office efficiency and administrative support, we are dedicated to providing professional, up-to-date, and efficient completion of the needed business functions to make your business well-rounded, proficient and complete. We offer unique business solutions tailored to each of our clients' needs to help your company be more profitable, productive and, most importantly, successful.
We are committed to providing the best service possible at an affordable price so each client can enjoy the value of outsourcing their business needs to keep their business running smoothly and profitably in a challenging economy.
We offer a free consultation, no upfront fees and no contracts. Let 360i bring your company full circle.